"The musicians...provide striking contrasts in timbre and texture. The results are delightful. The hybrid melding of modern and period instruments works beautifully, especially give the musicians' scrupulous and imaginative attention to phrasing, vibrato, articulation and ornamentation...the solo bassoon playing of Nadina Mackie Jackson...couldn't be more refined, quicksilver or swashbuckling. [Her] Musica Franca colleagues are sophisticated, animated partners." -- The Gramophone ~ August, 2006
"The Phoenix sounds gorgeous on this recording, with this instrumentation...this recording has [warmth and depth] in abundance...The six sonatas are wonderful little gems of music...They make each of these sonatas their own...The music of Corrette is comical, energetic and beautiful. This is a very enjoyable recording, and I look forward to hearing more from Musica Franca." -- American Record Guide ~ July/August, 2006
"The performances are stunning...the standard of intonation is uncannily good resulting in many really gorgeous textures...delightful music played with consummate skill and recorded to perfection." -- Gwynn Parry-Jones - The Music Web - June, 2006
"[a] delightfully sprightly disc...The CD is cleanly recorded and the players are superb. The music has a welcome simplicity but plenty of elan. Highest recommendation!" -- John Sunier, Audiophile Audition ~ June, 2006
"The performances are light and transparent... fast movements wonderfully weightless...bassoonist Nadina Mackie Jackson handles adeptly and with clear relish... Fraser Jackson plays contrabassoon with alacrity and lightness.... These players clearly have a great affection for this entire repertoire and the instruments chosen to express it... freedom with tempo and phrasing... deep feeling to the music...Tone throughout the bassoons' register is delicious... This is ensemble playing of great mutual respect and undeniable musicality." -- Alex Baran, WholeNote Magazine, February, 2006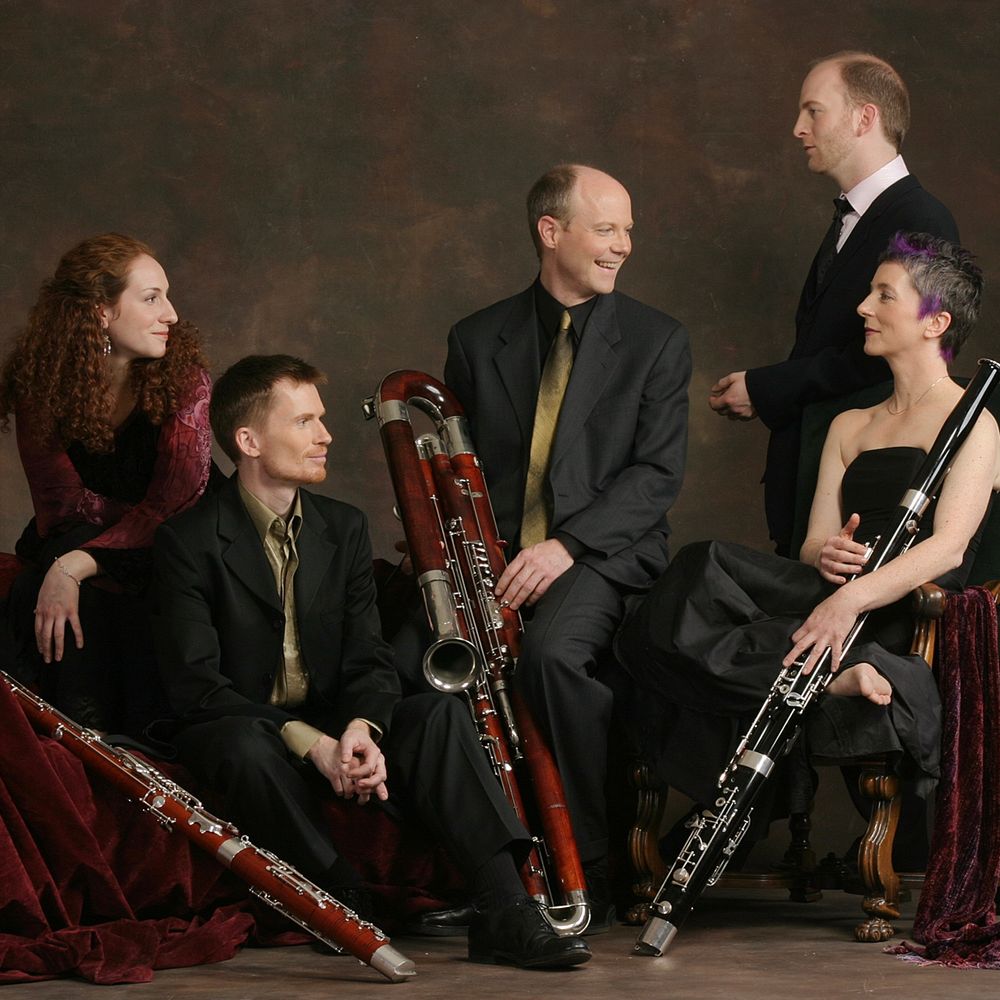 Musica Franca
(LtoR: Catherine Carignan, Paul Jenkins, Fraser Jackson, Mathieu Lussier, Nadina Mackie Jackson)
Musica Franca began in Toronto in 2003. Nadina was working on the Sonatas of Michel Corrette and thought it might be interesting to perform them with Fraser playing continuo on the contrabassoon. A public performance followed at Toronto's Church of the Holy Trinity with Paul Jenkins on harpsichord and the response of the audience and performers alike was so positive that recordings were planned. Two discs were recorded, one featuring Nadina and the Corrette repertoire, the other showcasing Mathieu Lussier and a selection of his favourite Sonatas by Joseph Bodin de Boismortier. Both were recorded in May of 2005 at the gorgeous St. Anne's Anglican Church in Toronto's west end, a space decorated in the 1920's by Canadian artists like J.E.H. MacDonald, Franklin Carmichael, and Fred Varley. With the exception of Mathieu Lussier, the Corrette disc featured a continuo group from Ontario: Paul Jenkins on harpsichord and portative organ, Terry McKenna on baroque guitar and theorbo, Fraser Jackson on contrabassoon, and Kathleen McLean on third bassoon in Le Phénix and the Concerto for Organ. The church was built in a Byzantine revival style which makes for wonderful acoustics, except for the fact that it sits opposite a candy factory and there were moments when the recording had to pause while trucks backed up or the workers' shifts changed. The music of Corrette being so happy, however, it was impossible to be annoyed.
Once the Corrette material had been recorded, the Ontario continuo team made way for their Quebec counterparts: Sylvain Bergeron on theorbo, and Richard Paré on keyboards, and Mathieu took over as soloist. Partly to avoid the truck noises we did a lot of sessions at night and I (Fraser) remember many magical times in the darkened church, blending my contra sounds with Sylvain's marvellous theorbo playing and revelling in the rich, dark textures of Boismortier. One of the most exciting parts of both these recordings was the juxtaposition of baroque and modern instruments, and the "lightening" of our modern approaches to embody the swiftness of baroque style. Nowhere else would a contrabassoonist be able to meld with a theorbist! (And I seriously hope that is a real word. ) Perhaps this is why this recording remains one of my favourites. I think often of an anecdote Mathieu Lussier told me: he played the final mastered version for his parents, thinking they might listen to a few tracks and say something like "good job, son" and then move on. But instead, they sat through the whole CD, listening intently and when it ended, there was a long silence before they looked at Mathieu and said "Can we hear it again?"
Musica Franca had a flexible approach to personnel but all our performances included Nadina on bassoon, and myself on contrabassoon; the vast majority also included Paul Jenkins on harpsichord and organ. Our last performance, in May of 2006, was a good one: the three of us, together with Mathieu Lussier on bassoon and Sylvain Bergeron on theorbo performed my arrangement of music from Rameau's opera Les Indes Galantes on the Pro Musica concert series at Montreal's Place des Arts. Glorious music with which to say goodbye to an inspiring group.